Planning on celebrating an occasion outdoors? Well, you better plan ahead and make sure you have everything you need. I personally enjoy celebrating in the great outdoors with my friends and family. Being out there, listening to the birds chirping, and the woodland creatures scurrying about is an experience in itself.
Before you head out with your family to celebrate though you need some camping party supplies. You can buy your supplies almost anywhere nowadays but the question is what supplies you will need to bring. Fortunately for you guys, I am quite well-versed in planning camping parties. I'll give you the lowdown below on what you need to bring and some fun little ideas you can incorporate as well.
#1: Essential Camping Party Supplies
First thing's first, if you are planning on throwing a camping party then I advise that you follow rules and regulations set by the park. Please, leave the campsite the way you found it. Don't litter and don't destroy or disturb any of the flora and fauna in the area. Respect nature.
Some essential items you need to bring are plastic spoons and forks, paper/plastic plates, plastic drinking cups, and a trash bag. All those are a given. You should also decide how you will serve the food. Are you going to cook it on site? If yes, will you need to bring your own cooking equipment like a griller and stove or does the site already has one ready for use? Those are just the basic items and factors you need to keep in mind.
Now, we have that short PSA (*) out of the way, let's talk about what you need to throw a fun party outdoors!
---
#2: Table and Chairs, Oh My!
This is, of course, something that you should definitely think about before heading out. You can do it like olden days and sit on the ground around the bonfire but having a chair and table does give you more comfort and convenience. If you will be hiking to the campsite then it will be quite a difficult task as you will need to be carrying around the chairs and table. You can buy lightweight foldable ones like the Fishing Chair and Table Set but I highly recommend that you only bring this if your campsite can be reached via your vehicle.
Remember, you will be bringing other essential camping equipment so manage your inventory properly. Something as large as foldable tables and chairs might not be a smart item to bring if you will be hiking to the campsite. Too much trouble for its worth. But if you can get there with your pickup truck then, by all means, bring everything you deem essential.
---
#3: Grills and Other Cooking Equipment
You have two options when it comes to your food. You can either prepare it beforehand or cook it on the spot during your camping trip. Again, this should apply if you have a vehicle that you can bring to the site. If you do have a pickup truck then you better get a grill that is compact to save space. The Coleman Road Trip Portable Propane Grill LXE is a good example of a lightweight and compact cooking grill you can bring in a camping trip.
You can also choose to bring portable stoves that use propane or electricity. You can check out the Iwatani Corporation Propane Stove or the electric powered RoadPro Portable Stove or the electric powered RoadPro Portable Stove. Just make sure to be careful when operating anything that has an open flame. Remember, you're in the woods and almost everything there can be used as tinder. Take all necessary safety precautions when cooking in the outdoors.
---
#4: Keep Your Drinks and Dessert Chilled with a Cooler
What's a great way to cap off arriving in your campsite? An ice-cold beverage of your choice, of course! Obviously, you won't have any access to stores or fridge in the great outdoors. The next best solution if bringing a portable cooler with you to store your drinks and make sure you keep them cold and refreshing. You can check out the Yeti Hopper Portable Cooler which is lightweight and compact but comes at a steep price. You can also check out the classic Coleman Cooler which is cheaper but bulkier. The Coleman Cooler is also more durable overall.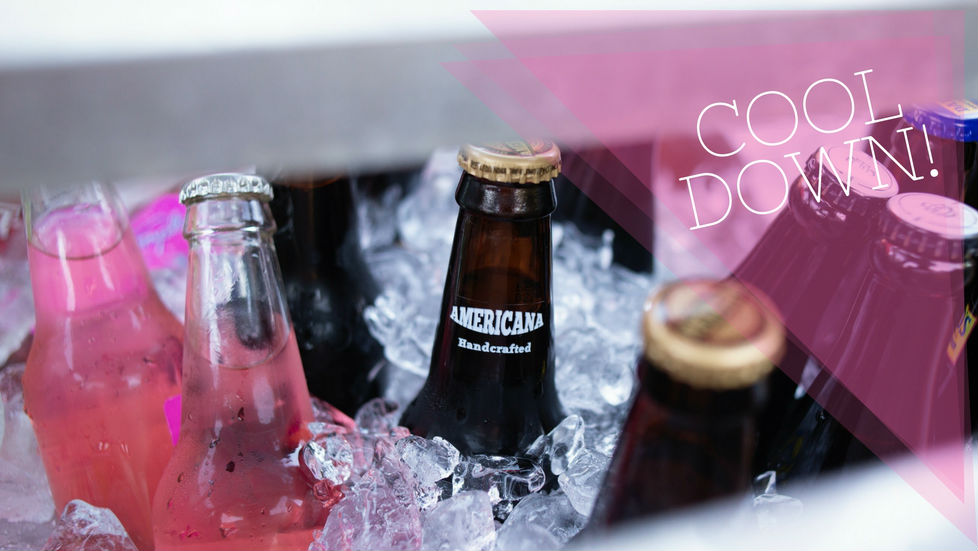 If you have any Styrofoam box lying around then you can use it as a cooler. Just fill ¼ of it with ice and you're good to go. The downside of using Styrofoam is that it is inconvenient and impossible to bring on a hike. That being said, you can save a lot of cash if you go for the Styrofoam box. If you have a decent sized vehicle I recommend you simply use a cheap Styrofoam box with crushed ice as your main cooler.
---
#5: Plates and Cups
An obvious inclusion. How else could you eat your food? You can bring your own plates and glass but I recommend you bring plastic ones. Or better yet, get the disposable plates and cups like these paper plates, dessert plates, and cups that you can buy in your local supermarket. Just make sure you dispose of them properly. Bring a plastic garbage bag for your trash so that you don't litter the campsite and maintain its pristine status.
---
#6: For Your Entertainment
What's a party without some fun games and activities? Now, depending on your guest you will need to plan out appropriate activities. For children, you can always plan some fun and games like scavenger hunts and hide and seek to name a few. For adults, you will need a different approach for planning out games. Some examples of camping game for adults are a slew of drinking games. Of course, drink in moderation to avoid any accidents.
You can also throw in some camping party decorations such as fliers, balloons, signboards, and the like. If you're throwing a camping party for children then this is pretty much a necessity. You want them to truly feel like it's a party, right?
You can also bring some stereo for music. You can get Bluetooth speakers for an easier setup. Just make sure you have enough battery to last the whole activity. Fortunately, you can recharge Bluetooth speakers using your vehicle or by bringing power banks. I personally use the Bose Soundlink Mini Bluetooth Speaker 2 which delivers great quality music and decent battery life.
---
#7: Your Outdoor Shelter
After a day's worth of fun chances are you're already drained and tired once the sun sets. Making sure you have a secure and comfortable tent is important to get that good night's rest. If you don't have a tent of your own then there are literally hundreds to choose from in the market. Make sure you take into account the material, features, quality, and size of the tent before making a purchase.
I also recommend that you don't be stingy when it comes to buying a tent. It is proven time and time again that it's better to spend a couple extra cash for a tent that will last for 5 years or more than spending a couple bucks for something that you will replace often.
You should also take into account the average climate of your campsite. You might need a shade of your own if the forecast is for a sunny weather. Some RVs come with a canopy that you can unfold but if your vehicle doesn't come with one then you can purchase portable canopies like the Eleoption Portable Canopy. You can set it up in various ways and it's lightweight and can be stored at the back of your van easily.
Also, I would like to add a little tip for those looking for an airbed for the camping trip; don't get uninsulated airbeds. You will need all the insulation you need outdoors, plus, these cheap airbeds deflate within a couple of hours of use.
---
#8: Light Up the Darkness
You can either make a bonfire or you can set up some LED lamps around the campsite. If you want to fully illuminate your camp then might I suggest the Dawhud Direct LED Lamp? You can buy a set of 12 collapsible lamps at an affordable price. It's pretty dependable, too.
If you want to go the traditional way then a bonfire should suffice. Just make sure you set up the bonfire properly away from any flammable equipment. Stomp out the fire before going to bed as well. Safety is imperative when you're on a camping trip so don't skimp on them.
---
Conclusion
This should help you get ready for a camping party trip with your friends and family. Remember that camping requires preparation and throwing a party in there will need even more scrutiny. I've listed the essential camping party trips up there and it's up to you to plan it out.
If you have any ideas to further enhance the enjoyment and safety of your fellow campers then please comment down below. Let's help each other out and make sure everyone will have a blast when camping.